Italian gospel, 6th century (British Library, Harley 1775, f.195).
All images by permission of the British Library. These images have now been placed in the public domain under Creative Commons licence.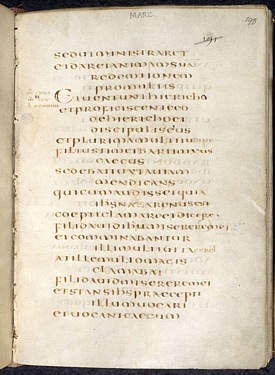 This page is from a 6th century Italian gospel book which is known to have been in France by the 9th century. The script is uncial. The Latin text is from the gospel according to Mark (Mark 10, 45 - 49) and describes Jesus restoring the sight of a blind man, Bartimaeus the son of Timaeus. Being a majuscule script, the difficulties in reading it are not so much in the letter forms as the lack of spacing and punctuation, and the fact that our brains do not seem to readily take to lines of capital letters. It is also slightly confusing that faint letters are visible from the other side of the page. The only abbreviations are the nomina sacra terms.
I have seen this particular volume described as being a Latin Vulgate text, or alternatively as an Old Latin version, predating Jerome's translation. All I can say about that is that this particular section checks out against the Vulgate.