English Bestiary, 13th century (British Library, Harley 3244, f.39).
All images by permission of the British Library. These images are made available by the British Library under a Creative Commons licence.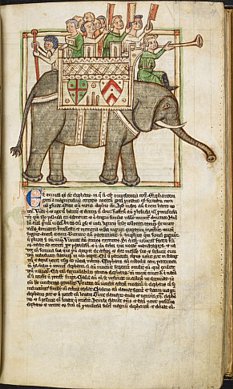 This page is from a 13th century volume of mixed contents. This is the beginning of the description of the elephant from a bestiary. As is usual, the section is headed with a picture of the animal, or at least, the artist's conception of the animal. This is a standard text for the elephant, and begins with some dubious etymology, proceeds to some equally dubious natural history description, and concludes with moral conclusions from the supposed behaviour of the elephant. A male and female elephant represent Adam and Eve, because they do not know how to mate until they have eaten a special fruit. The small elephant which can rescue a large elephant stuck on the ground is a Christ-like figure.
The script is a small, simplified and compact Gothic textura, utilised in the 13th century to pack more writing into smaller pages. Such scripts were much used for Bibles at this time. They predate the development of cursive book hands, which later provided a more elegant solution to the problem of writing rapidly and compactly.