Lindisfarne Gospels, late 7th century (British Library, Cotton Nero DIV, f.259).
Photograph
downloaded from the British Library website and made available under their Creative Commons licence. The Lindisfarne Gospels are presented in a complete digital facsimile by the British Library here.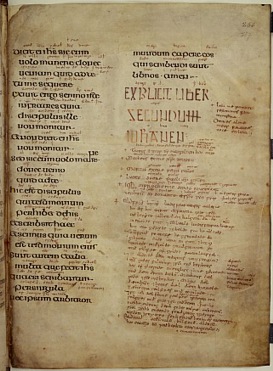 This page of the Lindisfarne Gospels shows the end of the gospel of St John, followed by a colophon in Old English and written in rubric. This was not written by the original scribe, but by the much later, 10th century, scribe who produced the interlinear gloss in Old English. The script is an insular minuscule, smaller and more pointed than the older insular half uncial of the main text. The colophon records the tradition of the book, and while there are discussions as to whether the information contained in it is literally true, it must surely be that it is the record of how the book was understood in the 10th century. That makes it an important component of the history of the book.
The colophon associates the making of the book with known individuals. One might perhaps be inclined to believe that bishops might have overseen the writing and covering of a book rather than actually carried out the work itself, but nevertheless it places the production of the book in a historical time frame. It also indicates that the book had a jewelled and gilded cover and was therefore regarded as a highly valued ritual object even during its time of use. This cover is lost, and the existing jewelled cover was created in the 19th century. The fact that the colophon was written over 200 years after the original text of the gospel may weaken it as precise historical fact, but does indicate that the book was still in use, was valued, and was still being updated with the English gloss a very long time after its original production.
There are two reasons for including this as an exercise here. One is that, because this page is not one of the fancy decorative ones, it is rarely reproduced in pretty books about manuscript decoration. Nevertheless, it sheds light on the valuation of the book to its owners, and on the valuation of the various kinds of work that went into producing a book. The other is that my knowledge of Old English is absolutely nil, and I can only produce an exercise where an expert has provided both transcript and translation.